Finders Keepers!
Are you a newly hired educator in Bellevue, Gretna, Millard, Papillion-LaVista, Omaha, or Westside? Do you currently work in one of these districts? Whether you're new and gathering supplies for your position, or current school staff hoping to declutter your space, the Finder's Keeper's event is for you!
Veteran educators donate their new or gently used classroom supplies, décor, furniture, etc. for new hires to take to their new classrooms or offices – all totally free! Join us at the Omaha Education Association office from 9AM to 1PM on Wednesday, June 14. Donations will be available until we run out. Gift card drawings will take place throughout the event donated by area locals, you need not be present to win.
New Hires: Interested in attending and taking as many FREE supplies as you can handle?! Sign up below!
Current Educators: See below for donation guidelines, drop off times, volunteer opportunities, etc.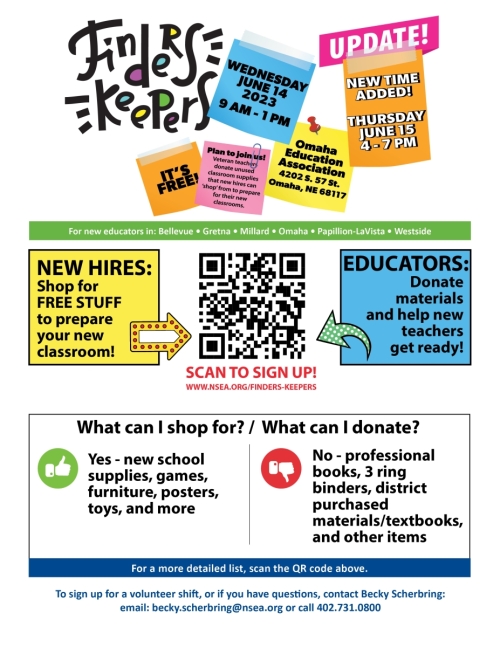 Click here to download this flyer as a PDF.
New Hires: Click here    Current Educators:Click here
The New Generation of Educators in Nebraska (NewGEN) exists to drive early career educators towards success by fostering membership engagement, advancing teaching excellence through professional development, and creating a network of support through mentorship opportunities and classroom resources.
NSEA is here for you. From professional growth opportunities and support, to amplifying your voice in public policy affecting you and your classroom, to providing perks like college debt assistance, NSEA has your future in mind. Learn more and join NSEA now.
NSEA established the Children's Fund in 1994 to fulfill modest and immediate needs of struggling students encountered daily by NSEA members in their workplaces. Find out how you can help a child today.
L.E.A.R.N — Providing valuable learning opportunities for educators: LearnNebraska.org Visit Website