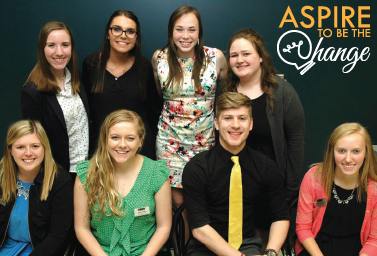 JOIN SEAN NOW: CLICK HERE FOR THE ONLINE APPLICATION
About SEAN
Of all the issues facing education, none may be more important than that of recruiting young people into the profession.
Through the Student Education Association of Nebraska (SEAN), the NSEA provides professional resources and support to teachers in training. That added preparation helps young teachers get off to a successful career start, and provides NSEA with a core group of future Association leaders.
SEAN chapters are located on Nebraska college and university campuses, with a combined statewide membership of more than 1,500 and growing.
Dues for membership in SEAN/NSEA/NEA are $30 annually. Membership provides student with important liability insurance coverage while student teaching, as well as many of the same benefits as active teachers/members.
A portion of the dues are refunded to SEAN members with their first year of membership in the NSEA when they begin their professional career.
SEAN sends delegates to the NEA Representative Assembly as well as to NSEA's Delegate Assembly. The SEAN president serves as a non-voting member of the NSEA Board of Directors.
Kristen Sedlacek, NSEA Organizational Specialist and Kristi Capek, Graphic Artist/Web Master are the staff consultants to SEAN, with Tamra Mick serving as associate staff assigned to SEAN.
For more information or if you have questions abut SEAN, contact Kristen Sedlacek, Kristi Capek or Tamra Mick.
---
---
Education Majors- Join SEAN Today! from NSEA on Vimeo.
Watch this short video!