2019 NSEA U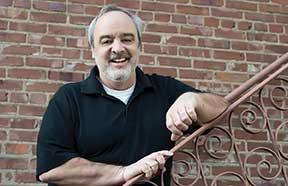 Great Professional Development Scheduled for First-Ever NSEA U in July
As the calendar moves past winter, the leadership and staff at NSEA have been cooking up a delicious schedule for the Association's first full summer conference in nearly 20 years. Attendees will be able to choose from a deep menu of professional development, will be able to get a taste of Association services and enjoy a dash or two of membership details.
They'll also get a heaping spoonful of sugar, in the form of celebrity elementary school Principal Gerry Brooks.
The quick-talking Brooks has parlayed his short, humorous videos into internet sensation status by drawing on his experiences as principal of an elementary school in Lexington, KY. His southern drawl and easy-going manner are an asset as he encourages and helps teachers improve their instructional abilities. He has spoken to educational groups across the nation about getting teachers to improve their instruction through personal climate and culture strategies.
Brooks will appear as keynote speaker during the July 15-18 NSEA University — NSEA U for short — conference. He will offer two of the nearly 180 breakout sessions planned over the three days. All sessions will be held at the University of Nebraska's sparkling new Innovation Campus.
'A Better Product'
The conference combines aspects of NSEA's annual fall membership meetings, the former Advocacy Conference held in September or October each year, and Leadership Institute held every summer. 
"In rolling these events all into one, we believe we'll offer a far better product to our members," said NSEA President Jenni Benson.
Under the NSEA U umbrella members will find the best of Advocacy Conference, highlighting bargaining issues; Leadership Institute, featuring skills and knowledge development for up-and-coming leaders; and membership meetings, allowing local leaders and members to collect membership materials.
Attendees will also be able to select from some 180 professional development sessions to be offered. Many of those breakout session topics will fall under the five provisions of NSEA's strategic plan: bargaining and member rights, membership, political action, governance and social justice.
A training for local association presidents will take place on the Monday preceding the conference kickoff on Tuesday.
Registration Open in April
In addition to the serious side of his presentation, Brooks is also pretty funny.
For instance, Brooks has posted YouTube videos titled The Home Visit, Teacher Buttons, Teacher Apparel, Celebrity Beauty Routines and more. He will undoubtedly weave humor into his Nebraska keynote.
Brooks spent six years in the classroom, two years as an intervention specialist and the past 12 years as a principal in Lexington, KY. More than 500,000 people follow Brooks on social media.
ADDITIONAL DETAILS: 
There is NO REGISTRATION FEE to attend. 
Attendees will be reimbursed for some expenses. See voucher guidelines, here. 
Due to space limitations, we can only accommodate a maximum of 300 attendees per day. Space is filling up, fast! If you plan to attend, register now!
This conference is a combination of many offerings members are familiar with in the past. During registration, those who select the option for LEADERSHIP INSTITUTE must have received a nomination letter and invitation to attend. ONLY those people should use the Leadership Institute registration section; we apologize we cannot accept additional registrations for Leadership Institute at this time. 
The New Generation of Educators in Nebraska (NGEN) exists to drive early career educators towards success by fostering membership engagement, advancing teaching excellence through professional development, and creating a network of support through mentorship opportunities and classroom resources.
NSEA is here for you. From professional growth opportunities and support, to amplifying your voice in public policy affecting you and your classroom, to providing perks like college debt assistance, NSEA has your future in mind. Learn more and join NSEA now.
NSEA established the Children's Fund in 1994 to fulfill modest and immediate needs of struggling students encountered daily by NSEA members in their workplaces. Find out how you can help a child today.
L.E.A.R.N — Providing valuable learning opportunities for educators: LearnNebraska.org Visit Website