The Truth and Unicorns: Busting NSEA Myths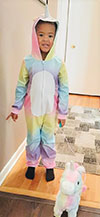 by NSEA President Jenni Benson & NSEA Executive Director Maddie Fennell
Some myths can be harmless, like the ones that insist unicorns are real. Then, there are hurtful rumors, misinformation and mistruths spread through our society via the communication streams we swim in all day long – news, social media, text messages and more. We used to hear "you can't argue with the facts." Now arguments are abundant as perceptions and opinions are disguised as facts.
So, while Jenni's 3-year-old granddaughter will assure you that unicorns exist, we want to address some of the inaccurate myths out there that we have heard about public education, the NSEA and the National Education Association.
Myth: NSEA is too political.
Fact: Every decision in education is a political decision. How you receive your teaching certificate, the standards you teach to, the number of students in your classroom, your curriculum, the resources you can access and the amount on your paycheck are just drops in the bucket of political decisions that affect public education. If we aren't advocating for public education systems, students and employees, then others will be advocating for their agendas. The implementation gap – the breach between policy development and application – will grow wider if our voices are absent in decision making.
Myth: NSEA only supports Democrats.
Fact: The NSEA candidate recommendation process is run by NSEA members from across the state who choose to take part in interviewing candidates about their views on numerous education topics. Of the recommended legislative candidates from 1984 to 2020, 42% were Republicans, 56% Democrats, and 2% Independent/Libertarian. NSEA works closely with candidates from both parties who support public school students and employees.
Myth: NSEA decisions are made solely by the president or the executive director.
Fact: We don't even wish for this! We are proud to work for a member-driven association. The NSEA leadership is elected by the membership at the local, district, state and national levels. Policies are adopted in a democratic, decision-making process at each level. These bodies set the goals of the association that are then implemented by leadership with the assistance of staff.
Myth: NSEA and NEA support Abortion.
Fact: While NEA has spent tens of thousands of dollars defending the rights of NEA members to choose childbirth over abortion and to exercise other family rights guaranteed by Roe v. Wade, it has not spent one penny under the legal services program to defend the right to abortion. In fact, NEA has supported only four cases based on the privacy rights granted in Roe v. Wade: a woman who was fired after she was raped and refused to abort her child; an unmarried teacher who became pregnant and was fired for immorality; a teacher who was fired for getting a divorce (NEA argued that the right to divorce is protected, just like the right to have children. The court agreed, saying that "…Roe clearly established the existence of a constitutionally-protected right to privacy which includes matters relating to procreation and marriage."); and another right to privacy case that established a teacher's right to breastfeed her baby in privacy on school grounds during her duty-free lunch. If expenditures for legal services are any measure, then it is more accurate to describe NEA as "pro-child," "pro-life" and "pro-family" than "pro-abortion."
Myth: NEA doesn't care about Nebraska members.
Fact: Each year, NEA provides Nebraska with substantial funding for our programs in support of members. The organizational specialist that works in your area is partially funded by NEA. This year, NEA has provided more than $1 million in grants to build our programs in professional development, mentoring, instructional coaching, racial and social justice and more. NEA utilizes the economic power of more than 3 million members to provide significant financial savings through NEA Member Benefits.
 
Myth: Teacher unions are blocking schools from reopening.
Fact: Just as some Nebraska school districts struggled in the fall to determine how to safely open schools for students and staff, districts across the country are now grappling with those questions in their own context. Jenni penned a great opinion editorial on this topic that you can read here: https://bit.ly/3qMYQZ1
Myth: NSEA doesn't support rural Nebraska.
Fact: NSEA is a member-run organization serving a diverse membership across our state. Our leadership team traveled to meet with members face-to-face in their schools and communities to hear their concerns and share them with policy makers. Our staff advocate for the economic and employment rights of our members every day. NSEA provides political support for local school board races and bond issues when requested.
Have more questions about NSEA and NEA? Reach out to your NSEA organizational specialist at 1-800-742-0047.
The New Generation of Educators in Nebraska (NewGEN) exists to drive early career educators towards success by fostering membership engagement, advancing teaching excellence through professional development, and creating a network of support through mentorship opportunities and classroom resources.
NSEA is here for you. From professional growth opportunities and support, to amplifying your voice in public policy affecting you and your classroom, to providing perks like college debt assistance, NSEA has your future in mind. Learn more and join NSEA now.
NSEA established the Children's Fund in 1994 to fulfill modest and immediate needs of struggling students encountered daily by NSEA members in their workplaces. Find out how you can help a child today.
L.E.A.R.N — Providing valuable learning opportunities for educators: LearnNebraska.org Visit Website