ESP Maria Gonzalez
Organizing effort underway to increase pay for OEA's bilingual liaisons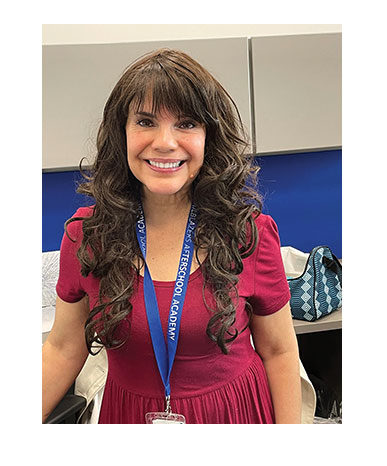 NSEA member Maria Gonzalez joined the Omaha Public Schools District as a bilingual liaison in 2004, just a few years after the district began hiring liaisons to help meet the needs of its diversifying student population.
Classified as an educational support professional, Gonzalez's starting hourly wage was $12.68 an hour. It wasn't enough to make ends meet and "our hourly rate never went up," Gonzalez said.   
"So, one of my coworkers, who now is a counselor, decided to join the union because she loves the job but needed to make more money," said Gonzalez. "That's how it started, between the two of us."
Gonzalez said frustration after years of stagnant wages led others to follow their lead and join the Omaha Education Association.
"We went to the first meeting and 100% (of the bilingual liaisons) were present," Gonzalez said.
Expectations for OPS's bilingual liaisons reach far beyond the confines of school campuses, according to Gonzalez.
"I've been there to help students and their families at court hearings and for medical emergencies in hospitals. I've even helped deliver groceries for a family who had no means of transporting them home," she said.
All of this work is on top of their assigned duties: translating for students; translating for parents; home visits; testing help; parent-teacher conferences; EPTs; IEPs and more.
"Our job is very diversified," Gonzalez said. "I mean, if I make a list, I will have like 100 things that I can do."
With the help of OEA, the bilingual liaisons were able to bargain a negotiated agreement with OPS from about 2006 until 2011.
By 2011, membership in the unit had dropped to the point where the OEA could no longer bargain for them.
In 2019, Gonzalez said frustrations mounted. Cost of living had increased and so did the district's expectations of bilingual liaisons—all this while their wages fell behind.
Gonzalez contacted NSEA Organizational Specialist Elizabeth Figueroa to help with an organizing project to build membership and get the bilingual liaisons back to the bargaining table.
"As we worked our way through the process the bilingual liaisons made it clear they wanted to negotiate a contract," Figueroa said. "For the OEA to negotiate, the bilingual liaisons needed to hit a 75% membership threshold, which they did very quickly.
"Maria was instrumental in signing up new members. She is a master recruiter and a delightful person," Figueroa said of Gonzalez.
OEA continues to work with Gonzalez and others in the push for increased wages. While Gonzalez has seen many colleagues leave the education profession for higher wages elsewhere, she remains optimistic about the future.  
"We will get to the point where we can make enough money that we can say, 'this is fair' and then can continue to increase those wages," Gonzalez said. "My goal is that people don't leave anymore.
"Membership is worth it because we are protected," she said. "I mean, right now we are going through a lot of stuff. And when we are represented, we are protected. So, it's worth it to pay the dues for something that is going to protect us in the long run."
The New Generation of Educators in Nebraska (NewGEN) exists to drive early career educators towards success by fostering membership engagement, advancing teaching excellence through professional development, and creating a network of support through mentorship opportunities and classroom resources.
NSEA is here for you. From professional growth opportunities and support, to amplifying your voice in public policy affecting you and your classroom, to providing perks like college debt assistance, NSEA has your future in mind. Learn more and join NSEA now.
NSEA established the Children's Fund in 1994 to fulfill modest and immediate needs of struggling students encountered daily by NSEA members in their workplaces. Find out how you can help a child today.
L.E.A.R.N — Providing valuable learning opportunities for educators: LearnNebraska.org Visit Website