"It felt like we were on 'Oprah'"
OPS designates general fund dollars to pay student teachers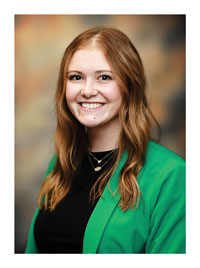 "YOU get a scholarship! And YOU get a scholarship! And YOU GET A SCHOLARSHIP!"
Chloe Kirschenmann was in shock when she first learned she would be earning money while student teaching.
"I have never heard of anyone ever getting paid while student teaching," she said. "It felt like we were all on an Oprah episode!"
When Omaha Public Schools Superintendent Dr. Cheryl Logan made the announcement, Kirschenmann and her fellow student teachers were surprised, to say the least.
"We all kind of thought it was a joke," she said.
It's no joke
OPS recently made the decision to award a $9,000 stipend/scholarship to each of its 50-plus student teachers who are in the classroom for all 16 weeks of this semester. Those serving 8 weeks will receive $4,500. Payments will be made every two weeks.
The payments will come from the district's general fund budget, according to Bridget Blevins, spokesperson for OPS.
"Our district established the stipend for student teachers as part of our investment in future educators," Blevins said. "This is one element of our immediate and long-term work to recruit and retain top talent for the community we serve."
The district will also give cooperating teachers – those who agree to take on a student teacher for the semester – a stipend of $1,500.
Long-term investments
The stipends will be awarded each semester through July 31, 2023, and are just part of OPS' plan to attract and keep more qualified educators.
"In September 2021, our district changed the 2021-22 calendar to add several non-student days for teacher planning, work and professional learning," Blevins said.
Other long-term investments in the district's staff pipeline include its paraprofessional to teacher program, high school education academies, Next Level Learning paid student internships and utilizing students as contracted interpreters.
"Omaha Public Schools also introduced our Concierge Team, which provides flexible hours for those who may be able to work 5, 10, 15 or 20 hours per week to assist with numerous non-instructional responsibilities," Blevins said.
These programs are a huge benefit to future teachers like Kirschenmann, a senior at Wayne State College and member of NSEA's Aspiring Educators.
"The responsibilities of a student teacher are almost identical to any other teacher," Kirschenmann said. "We are essentially being trained to do everything that our cooperating teacher does so that we can gradually take over for them toward the middle to end of the student teaching experience."
Save money, save stress
Kirschenmann is wrapping up her degree in K-8 elementary education with endorsements in K-6 writing and K-12 English as a Second Language. She is student teaching fourth grade at Standing Bear Elementary School in Omaha.
For the past four years, she has been saving money to pay for her student teaching experience.
"I originally decided to student teach in the Omaha area because I had an aunt that I could live with. I knew this was something that I needed to do in order to save money and not pay for rent, utilities and food," Kirschenmann said. "It is very difficult to balance working a job on top of student teaching. It worried me a lot to not have any money coming in and only leaving."
The stipend came as a big relief for Kirschenmann and other student teachers in similar situations. It's not uncommon for a potential educator to change their major or abandon hope of becoming a teacher once they realize the strain four months of no income will create.
"This scholarship will help immensely with easing the stress of paying bills and worrying about money. Student teaching is a full-time job itself, so working another job outside of school gives a lot of student teachers a lot of stress and causes exhaustion," Kirschenmann said. "I'm really hoping that this sparks interest to other school districts to start giving their student teachers some sort of payment for their time and hard work."
NSEA continues to work with state lawmakers to establish a statewide stipend program to pay student teachers.
The New Generation of Educators in Nebraska (NewGEN) exists to drive early career educators towards success by fostering membership engagement, advancing teaching excellence through professional development, and creating a network of support through mentorship opportunities and classroom resources.
NSEA is here for you. From professional growth opportunities and support, to amplifying your voice in public policy affecting you and your classroom, to providing perks like college debt assistance, NSEA has your future in mind. Learn more and join NSEA now.
NSEA established the Children's Fund in 1994 to fulfill modest and immediate needs of struggling students encountered daily by NSEA members in their workplaces. Find out how you can help a child today.
L.E.A.R.N — Providing valuable learning opportunities for educators: LearnNebraska.org Visit Website