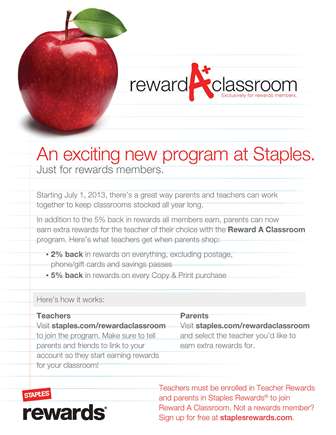 Staples claims that "it pays to be a Staples Rewards member."
That was never more true than today, with the start of the Reward a Classroom program that allows Staples customers to earn extra rewards for a teacher of their choice.
As educators, teachers can already earn 5 percent back in rewards. The Reward a Classroom program allows parents to earn extra rewards, and designated those rewards to a particular teacher, including:
2 percent back in rewards on everything, excluding postage, phone and gift cards, and savings passes;
5 percent back in rewards on every copy and print purchase.
Teachers must be enrolled in the Teacher Rewards program, and parents must be a part of the Staples Rewards program, in order to participate. Teachers and parents can join the rewards program at the Staples website, and parents will select their participating teacher at the Staples website.
The Rewards program includes purchases made at any Staples store – there are stores convenient to NSEA members in Omaha, Lincoln, Fremont, North Platte and Scottsbluff – or online. And the best news: free shipping for online orders, with no minimum needed. Learn more at:
staples.com/rewardaclassroom
Click here to download the image as a flyer to post and distribute.